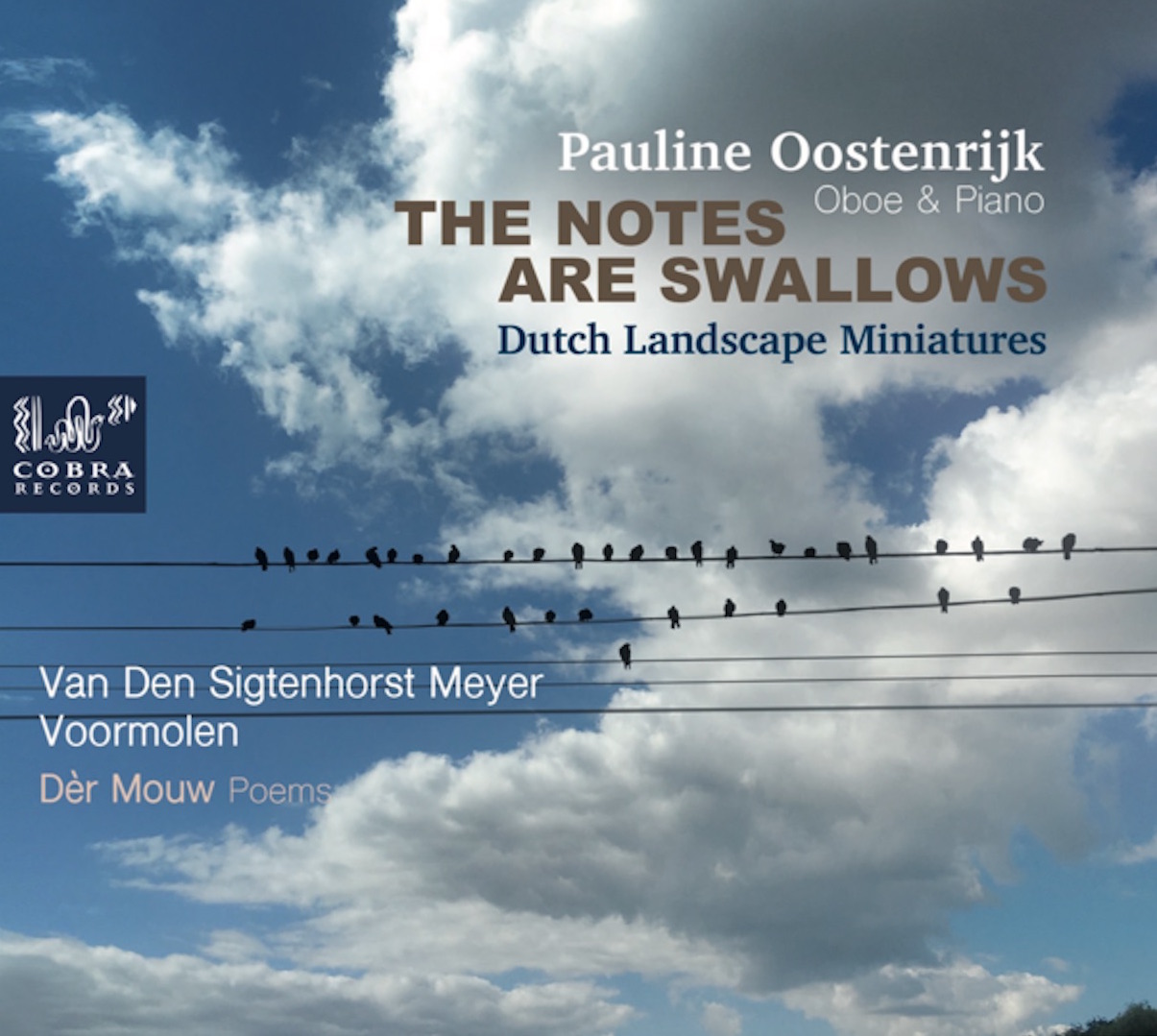 Summary of CDs, DVDs, books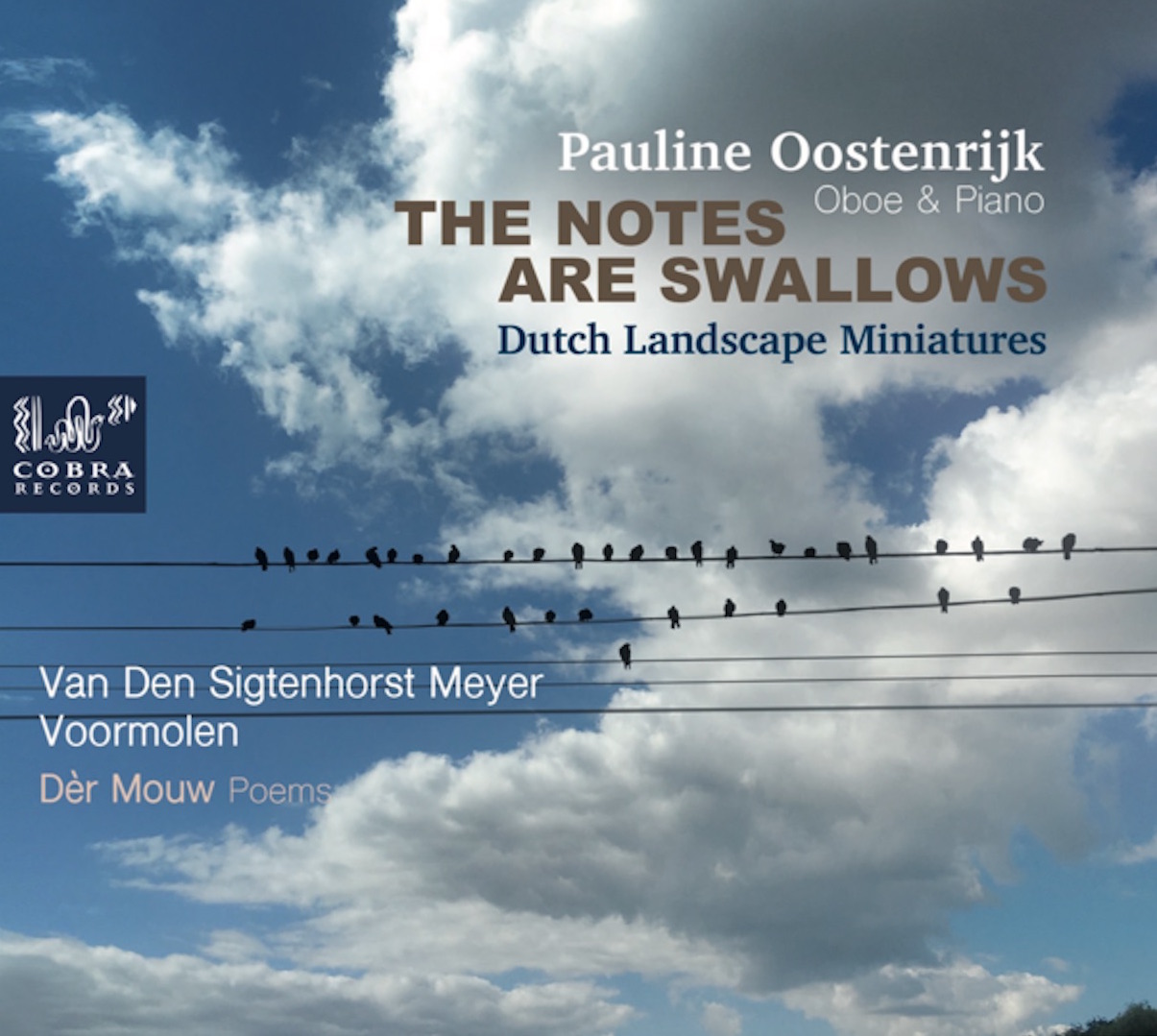 The Notes Are Swallows is a surprising and touching collection of forgotten landscape miniatures in Dutch music and poetry. With this project, a long- cherished wish comes true for Pauline Oostenrijk: to combine her love for the oboe, the piano, Dutch music, Dutch literature and Dutch landscape.
First of all, this album brings the complete oeuvre for oboe solo by Dutch composer Bernhard van den Sigtenhorst Meyer (1888-1953) out of the shadows. These atmospheric, colourful and meditative compositions were mostly written for Jaap Stotijn and his son Haakon Stotijn, both icons of the le- gendary Dutch Oboe School. Pauline Oostenrijk, who is considered to be the last Dutch oboe soloist cherishing this tradition of a songful, expressive and clear voiced oboe sound, is the designated person to record this repertoire.
Being a pianist as well as an oboist, Pauline is delighted to be able to alter- nate these oboe pieces with some completely unknown early piano works of the same composer: musical portraits of flowers and birds that perfectly match the rustic atmosphere of the oboe pieces. The musical collection is completed with a few piano works of Dutch composer Alexander Voormolen (1895-1980), with titles as The tiny fish and The first swallow. And because Pauline felt that Voormolen's Pastorale for oboe and piano shouldn't be omit- ted on this CD full of landscape music, she decided to enjoy, for once, the experience of playing as an oboist together with herself as a pianist.
Since completing her study Dutch Language and Culture at a later age, she has felt the strong desire to connect Dutch music and Dutch literature. For this she chose the poems of Dutch poet Johan Andreas dèr Mouw (1863- 1919); in an unparalleled manner, his sonnets describe landscapes, nature and animals and express the deeply felt wonder and stillness that nature can evoke. A selection of eleven poems together with their beautiful translations into English by John Irons have been chosen to be printed in the booklet. A unique opportunity to combine these musical and poetic representations of the Dutch landscape, which complement and reinforce each other so wonderfully, and present them to an international audience!
Vivaldi: Concertos For Oboe, Strings & Basso Continuo
Baroque Academy of Netherlands Symphony Orchestra, Jan Willem de Vriend
Pauline Oostenrijk, Nienke Oostenrijk
Amsterdam Sinfonietta, Jaap ter Linden
Lucia Swarts, Siebe Henstra, Rémy Baudet, Franc Polman, Wim ten Have, Robert Franenberg, Paul Leenhouts, Karel van Steenhoven
A double-cd with in the leading roles two sisters: Pauline and Nienke Oostenrijk. Pauline plays on both cd's: one with Arias for Soprano and Oboe and one with Oboe Concertos. But there is another leading role except the ones of the soprano and the oboe: composer Johann Sebastian Bach! And last but not least also two of his most famous sons can be heard: Johann Christian and Carl Philipp Emanuel.
Oboe Sonatas by Saint-Saëns, Poulenc, Dutilleux, Mihalovici, Shinohara
Pauline Oostenrijk & Ivo Janssen
Maurice Ravel schreef, zeker in het begin van zijn carrière, vooral pianomuziek. Later schreef hij ook werken voor orkest. Kleurrijk, dat was zijn stijl. Dus, dachten de leden van het Orlando Quintet: 'Waarom transcriberen we zijn muziek niet voor een ander palet instrumentale kleuren?'. Dit was de grondgedachte van de jonge en alom geprezen leden van de Orlando Quintet. Ze gaven Mark Popkin en Wayne Peterson opdracht drie werken, van uiteenlopende oorsprong binnen Ravels oeuvre, te arrangeren voor een blaaskwintet.
Het Eindhovens Dagblad naar aanleiding van een optreden van Pauline Oostenrijk op 8 maart 2009 in Kasteel Geldrop: "(…) Met drie precies op de juiste toon voorgedragen verhalen uit de bundel 'De geest van Stotijn en andere muziekverhalen' creëerde ze een sfeer van ontspannen saamhorigheid. De luisteraars hingen aan haar lippen, vanwege haar voordracht, maar ook vanwege de plezierige inhoud van de zelf beleefde verhalen."
Pauline Oostenrijk, de meest spraakmakende hoboïste van ons land, zal ook deze maand op diverse concertpodia staan met het verhaalconcert 'De geest van Stotijn'. In haar boek 'De geest van Stotijn en andere muziekverhalen' voegt Pauline haar ervaringen als musicus, haar heldere waarnemingen en haar rijke fantasie op een geheel eigen wijze samen tot wonderlijke, ontroerende en soms hilarische vertellingen. Daarmee is het een knipoog naar de autobiografie.
"Nog nooit had ze de sonate zo snel uitgevoerd. In paniekerige salvo"s glibberden de noten onder haar vingers vandaan. Zodra de slotnoot was uitgeklonken struikelde ze met een rood hoofd naar achteren, waar ze tegen de zangeres opbotste, die al met de partituur in de hand klaarstond voor het volgende programma-onderdeel. "Wacht even hoor. Even wat water drinken," kuchte Joyce en dook het toilet in. Daar bleef ze zo lang mogelijk zitten."
De winnares van de Nederlandse Muziek Prijs 1999 – de hoogste staatsonderscheiding op het gebied van de klassieke muziek – is actief als soliste, solohoboïst van het Residentie Orkest, kamermusicus en docent aan de conservatoria van Amsterdam en Den Haag. Ze maakte een aanzienlijk aantal cd's. Zie www.paulineoostenrijk.com voor meer informatie en een uitgebreide concertagenda.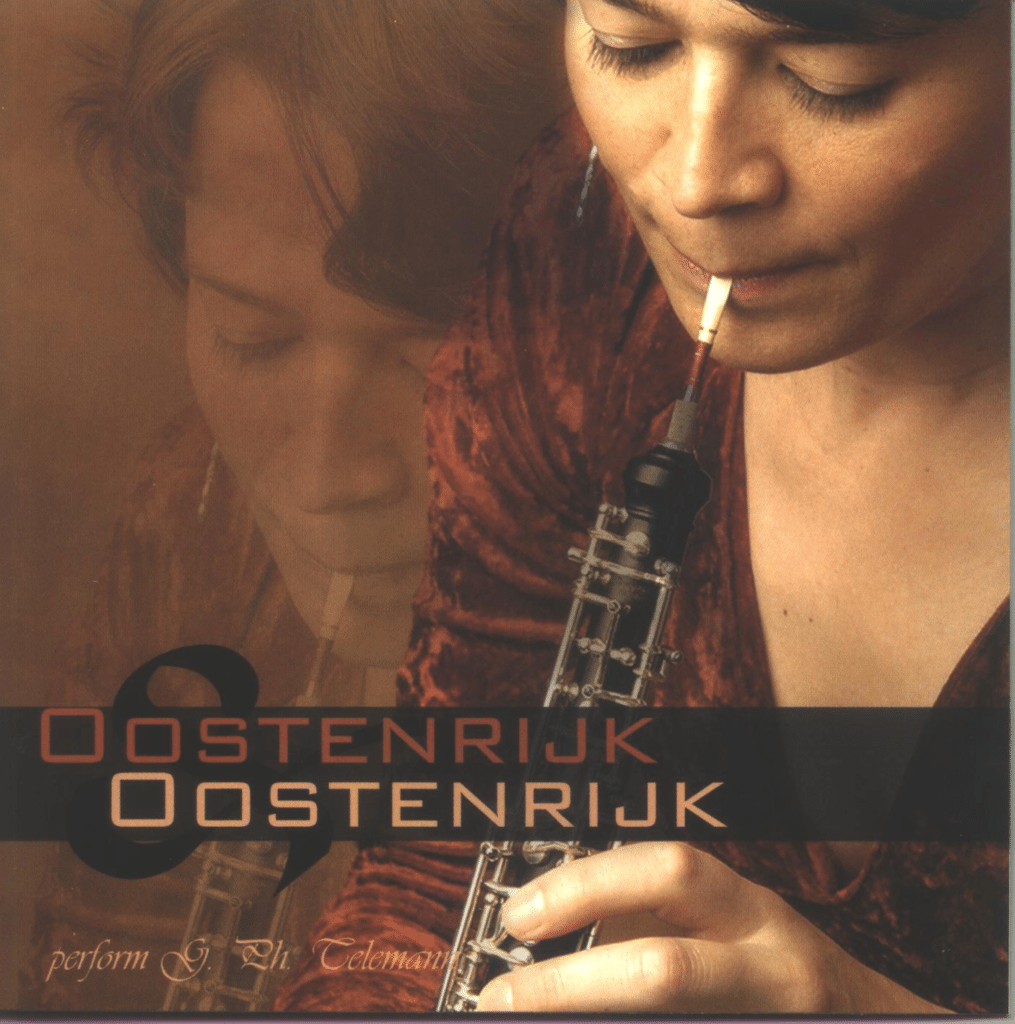 Componist(en): Georg Philipp Telemann
Pauline Oostenrijk, Siebe Henstra, Richte van der Meer, Mike Fentross
Telemanns werken zijn alom bekend bij de liefhebbers van oude muziek, maar op deze wijze heeft u het waarschijnlijk nog nooit gehoord: naast solowerken en sonates voor hobo en continuo, zijn er ook duo's te horen waarin Pauline Oostenrijk speelt met … zichzelf! Door gebruik te maken van bepaalde opnametechnieken geleend uit de popmuziek, heeft Oostenrijk de mogelijkheid gehad om topsport te beoefenen met deze tweestemmige canons. Dit werpt een geheel nieuwe blik op deze muziek.
Sonata in e (from "Solo XI in Essercizii Musici", 1739)

Sonata II in D TWV 40:119 (from "Sechs Sonaten im Kanon" op.5, 1738) 

Fantasie no. 3 in b (from "Zwölf Fantasien für Querflöte ohne Baß") 

Sonata in a (from Siebenzehnte Lection des Music-Meisters in "Der Getreue Music Meister", 1728) 

Sonata I in G TWV 40:118 (from "Sechs Sonaten im Kanon" op.5, 1738) 

Fantasie no. 2 in a

Sonata in Eb (from "Essercizii Musici", 1740) für Oboe, obligates Cembalo und B.c.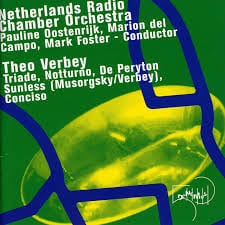 Theo Verbey Oboe Concerto 'Notturno'
Pauline Oostenrijk & Radio Chamber Orchestra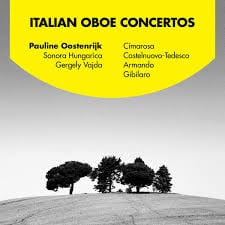 Oboe Concertos by Cimarosa, Castelnuovo Tedesco, Armando, Gibilaro
Pauline Oostenrijk & Sonora Hungarica
Oboe Concertos by Cimarosa, Castelnuovo Tedesco, Armando, Gibilaro
Pauline Oostenrijk & Sonora Hungarica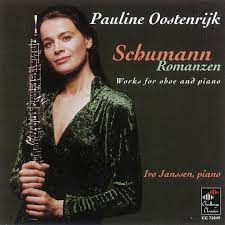 Robert Schumann. Romanzen, Fantasiestücke, Adagio & Allegro, Stücke im Volkston.
Pauline Oostenrijk & Ivo Janssen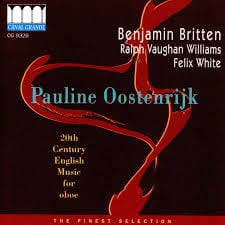 Benjamin Britten: Six Metamorphoses for oboe solo; Temporal Variations (Ivo Janssen, piano); Fantasy Quartett (Marin Mars, violin; Susanne van Els, viola; Jan Insinger, cello)
Ralph Vaughan Williams: Blake Songs (Nienke Oostenrijk, soprano)
Felix White: A Nymph's Complaint for the Death of het Fawn (Susanne van Els, viola; David Kuyken, piano)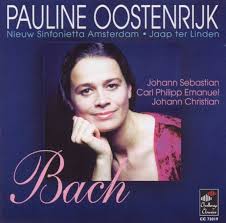 Oboe Concertos by Johann Sebastian Bach (oboe d'amore concerto), Carl Philipp Emanuel Bach & Johann Christian Bach.
Pauline Oostenrijk, Amsterdam Sinfonietta, Jaap ter Linden
For contact:
Fill in the form or send an e-mail to info@paulineoostenrijk.nl